We want you to try us out with no strings attached. Try our free Discover Dancing program so you can learn and enjoy: 1 free sample private lesson, 1 free group class, and 1 free practice dance party.
Whether it's group classes, private lessons, workshops or dance parties, Elegant Dancing has the perfect way for you to learn and enjoy your dancing.
We specialize in partnership dancing, both social and competitive ballroom dancing.
You can learn ballroom, Latin, Swing, and popular dances like Salsa, Bachata, Nightclub Two-Step, Argentine Tango, and the Hustle!
We have the largest teaching staff in the D.C. area, providing you a "one-stop-shop" for all your dancing desires.
Come dance with us tonight!
Call today to schedule your free private lesson, group class and dance party 703-281-0395
Learn at your own pace and with personal attention!
One-on-one private lesson programs are planned to fit your goals, your schedule, and your style of learning. Take as a single or as a couple for one price. Discover how quickly you'll learn when a seasoned professional instructor takes charge. We teach American and International, social and competitive styles and wedding preparation.
Check out our new student page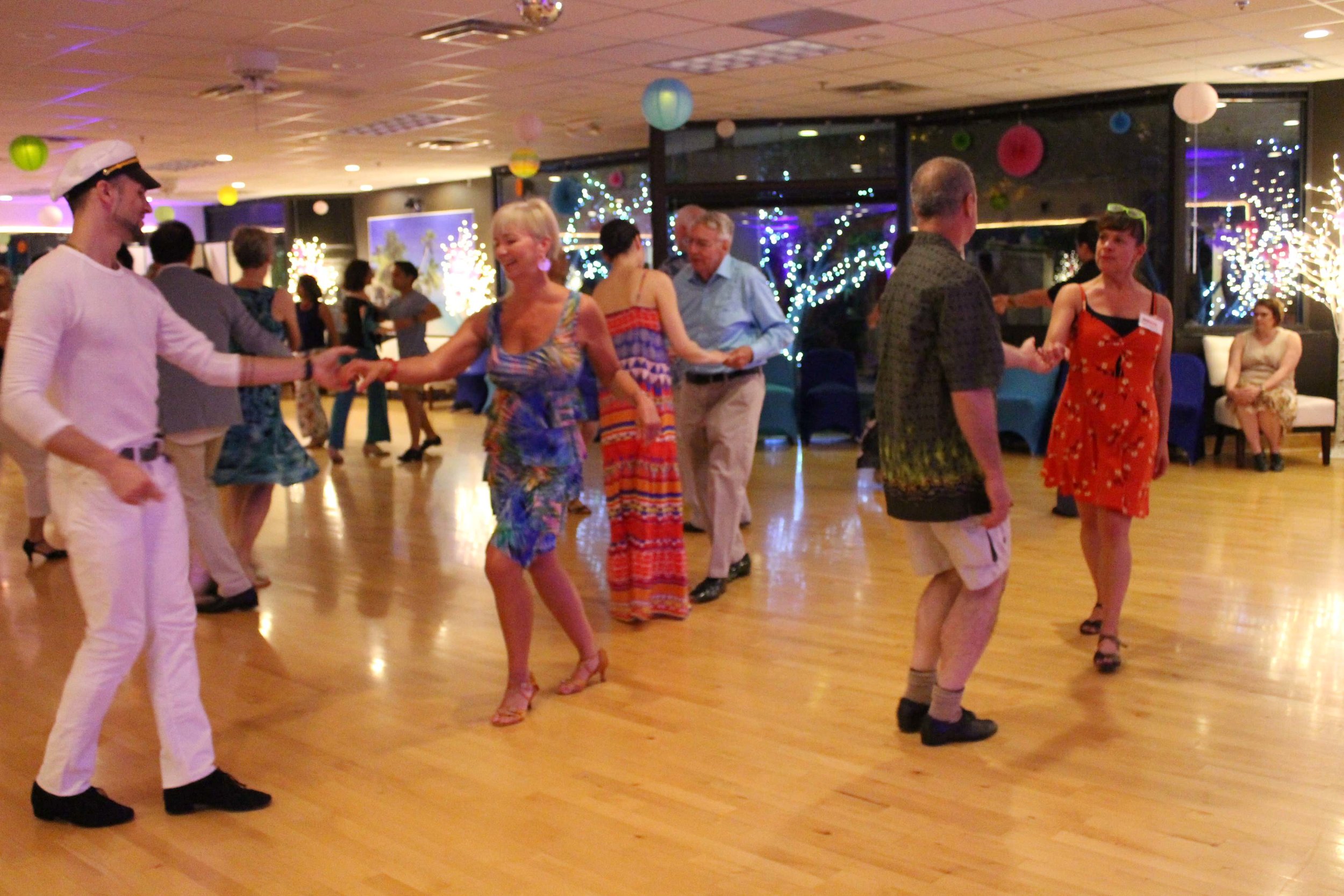 Our group classes are a fun and affordable way to learn dancing, so bring your dance shoes and a sense of humor while you learn and make lifelong friends!
We offer six levels of classes throughout the week, starting with Strictly Beginners social dance classes on Saturday mornings right through competitive level classes for the serious hobbyist.
We also offer weekly workshops in both social and International styles.
Learn more about group classes
We offer weekly workshops in both social and International styles.
Join our staff Saturday mornings for three levels of American social workshops
Join Alex Senko Saturday afternoons for Standard & Latin
Join Alisa Sadovnikova on Sundays for Rhythm/Latin styling and drills
We have regular visiting world-class dancers/coaches
Your first dance as husband and wife is an expression of your future life together.
We are here to make yours a little easier, a little happier and a lot more fun! In addition to personalized choreography, you will gain poise, confidence, and ease for this special part of your wedding day.
Father/Daughter and Mother/Son Dances: These range from tender and tearful to playful and fun. We can help you make yours reflect the unique interaction between the two of you.
SO MANY CHANCES TO DANCE!
There are so many opportunities each week to practice and enjoy your dancing at Elegant Dancing.
We have a large hardwood floating floor that your feet and knees will love!
Our music is always upbeat, including ballroom & Latin standards, top 40 and golden oldies.
Come meet old friends and make new ones!